3D Laserscanning
Terrestrial 3D laser scanning is a technology that can be used to measure in a short time complex objects such as buildings, infrastructure and industrial facilities. The scan data can be processed into plans, 3D models, visualizations and simulations.
How does 3D laser scanning work?

With a laser scanner three dimensional coordinates are measured with a rate of up to 1000.000 points/second. The measured points are processed into an accurate 3D point cloud of millions of points that displays the scanned environment and serves as the basis for plans and 3D models.

Read more
What are the applications of 3D laser scanning?

This technique is used in diverse fields, starting from archeology and civil engineering and even up to police or (gaming) industry. Laser scanning is also suitable for three-dimensional tunnel, bridge and facade measurements, archaeological documentation, modeling of piping, volume measurements and even more.

Read more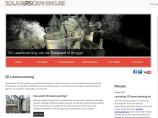 Launch of 3D-laserscanning.be website
June 24, 2013
What is 3D laser scanning? How does a laser scanner work? What are the applications? From now on you can find all the answers on www.3D-laserscanning.be. This new informative website offers you a broad overview of the technology and applications of 3D laser scanning.
More news...